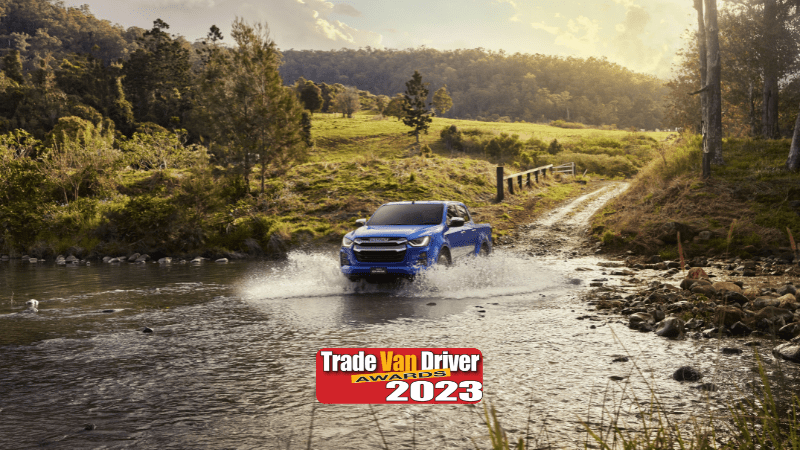 DOMINATING THE PICKUP TRUCK INDUSTRY: ISUZU UK'S DOUBLE TRIUMPH
The Isuzu D-Max takes home the prestigious 'Best Workhorse Pick-up' award for the eleventh consecutive year, while the Arctic Trucks AT35 claims the title of 'Best Lifestyle Pick-up'. Judges assessed factors like price, aesthetics, and specifications to determine these exceptional winners.
We are thrilled to share some exciting news from Isuzu UK, where we have once again proven our status in the pickup truck market. The renowned Trade Van Driver magazine has honoured us with not just one, but two prestigious awards. Our beloved Isuzu D-Max, known for its unmatched workhorse capabilities, has secured the coveted title of 'Best Workhorse Pick-Up' for an incredible eleventh consecutive year. And that's not all—our exceptional Arctic Trucks AT35 model has proudly claimed the esteemed 'Best Lifestyle Pick-up' award.
Trade Van Driver holds a special place in the hearts of owner-drivers and small fleet operators, and their awards are judged by both industry experts and readers who rely on pickup trucks for their businesses. The fact that Isuzu D-Max emerged victorious in the 'Best Workhorse Pick-Up' category comes as no surprise. Our truck has consistently impressed judges with its superior specifications and affordability, making it the top choice for fleets and commercial vehicle users seeking a reliable work companion.
To achieve the 'Best Workhorse Pick-up' award for an unprecedented eleventh year in a row is a truly remarkable accomplishment. It speaks volumes about Isuzu's unwavering commitment to excellence. Judges unanimously agreed that our D-Max workhorse models outshine the competition, offering unrivalled standard features at a price that doesn't break the bank. It's humbling to see our hard work and dedication recognized yet again, and we are truly grateful to the judges for their overwhelming praise.
But the excitement doesn't stop there—our Isuzu D-Max Arctic Trucks AT35 has made history by securing the 'Best Lifestyle Pick-up' award for the first time. This adventure vehicle has captured the judges' attention with its striking appearance, accentuated by its imposing tires. And let's not forget the exceptional level of specification that sets it apart from the rest. The judges were unanimous in their decision that the AT35 deserved this prestigious accolade.
Reflecting on the awards, the judges expressed their admiration. Regarding the 'Best Workhorse Pick-up' category, they enthusiastically shared, "Isuzu has been an undisputed champion in this sector since the inception of our awards. The judges had no doubt about continuing this unbroken legacy. The D-Max workhorse models offer unrivalled standard specifications at an affordable price, making it a well-deserved winner once again. It's a massive win."
As for the 'Best Lifestyle Pick-up' category, the judges exclaimed, "With Mitsubishi's exit from the UK market, Isuzu seized the opportunity to cater to all those buyers who previously opted for the L200 by introducing stunning new lifestyle models. Our Isuzu AT35 truly takes the WOW! factor to the next level. With its massive tires, striking aesthetics, and an abundance of standard features, it exceeds every driver's wish list. Congratulations to Isuzu for a double triumph in the Pickup sector of our awards."
Alan Able, Isuzu UK's Managing Director, commented: "Securing these awards under Isuzu UK's belt is a testament not only to the D-Max's unwavering commercial capability, but it has also further solidified our position in the lifestyle pick-up market which is exactly where we want to be."
Our recent success adds to the growing list of industry awards bestowed upon us, from publications such as What Van?, Business Vans, Company Car & Van, and 4x4 Magazine. It's incredibly gratifying to see our hard work and dedication recognized by experts and enthusiasts alike. At Isuzu UK, we are committed to setting the standard for the best pickup trucks in the market, and these accolades motivate us to continue delivering.
Want to know more about our multi-award-winning trucks? VIEW ISUZU
Latest News