Explore Model
Maxus eDELIVER 9 in Londonderry County Londonderry
With a 100% electric powertrain and three battery options, the MAXUS e DELIVER 9 is ready to transform your fleet. Built to last and handle any line of work, this robust panel van offers a cargo space of 9.7m3 to 11m3 with a medium or long wheelbase. The 51.5kWh, 72kWh and 88kWh batteries offer ranges of 147, 179 and 219-miles (WLTP) with DC rapid charging giving you a 5%-80% charge in just 45 minutes. The 150Kw / 310Nm electric motor provides smooth performance and a top specification comes as standard.
Standard kit includes a 10" touchscreen, LED headlights, keyless entry and start, a reversing camera, front and rear parking sensors, cruise control, lane assist and Blind Area Monitoring System. The cabin seats a crew of three and there's a full-height steel bulkhead, so everyone is protected from moving loads.
Design
Engineered to last, the e DELIVER 9 is made from 54% high-strength steel with a reinforced chassis to accommodate a significant 1,040-1,200kg payload capacity. A streamlined profile, handsome front end, 16" alloys and LED headlights give it class.
Drive
Power comes from a 51.5kWh, 72kWh or 88.5kWh battery. These power a 150Kw / 310Nm electric motor. The electric range per battery is 147, 179 and 219-miles (WLTP) respectively, which is right up there with the best in the industry today.
Practicality
The 100% electric e DELIVER 9 is perfect for last mile and urban deliveries but it's just at home travelling long distance with cruise control and lane keeping aids. The load space can accommodate Euro pallets with up to 11m3 of cargo capacity.
Living with it
No other electric van is this well-equipped. Standard features include air conditioning, automatic headlights and wipers, electric windows, a 10" touchscreen, keyless entry and start, a reversing camera and front and rear parking sensors.
All-New Maxus e-Deliver 9
THE FUTURE IS GREEN. THE FUTURE IS MAXUS. THE FUTURE IS NOW.
Big brother to the e DELIVER 3, the e DELIVER 9 is designed with more space, more range and all the usual extras as standard, ensuring a comfortable, economical, pure driving experience.
Complementary to the impressive standard specifications, the e DELIVER 9 boasts equally impressive performance specs accredited to its 150Kw / 310Nm motor partnered with either a 51.5Kwh, 72Kwh or 88.55 Kwh battery configuration which produces a WLTP city range of up to 219 miles / 353 kms and a fast charge of 80% in 40 minutes.
This is the future of the transport industry.
Safety
Adjustable Overspeed Alarm
Auto Latch (8mp/h)
Automatic Emergency Braking System
Automatic Off Headlights
Blind Area Monitoring System
Driver and Passenger Safety Belt Buckle Reminder
Driver Seat Airbags
ESP+EBA+BAS+HHC
Front Double Curtain Airbag
Front Passenger Airbags
Ignition-off Auto Unlock
Intelligent Anti-Theft Security System
Lane Change Assist System
Lane Departure Warning System
Passenger Adjustable non-Pretightening Belt
Tyre Pressure Monitoring System
Exterior & Interior
16" Alloy Wheels
236° Opening Angle (with Limited Gemel)
Body Colour Handles
Chrome Front MAXUS Hexagonal Signature Grill
Duel Cargo light
Electric Side Step (Optional)
Front Body-Colour Bumper
Infotainment System
LED Day Time Running Light
LED Headlights
Multifunction steering wheel
Rear Bumper Nature Colour
Rear Fog Lamp
Seat Fabric (Knit / Gray)
Single-Side Sliding Door
Smoker Pack
Tie Down Points (8)
Wear Resistant Floor
Comfort & Convenience
10 Inch Touch Screen
8-direction Adjustable Driver's Seat with armrest
Adjustable non-Pretightening Belt
Air conditioning
B Column Full Steel Unglazed Partition
Central Lock
Cruise Control System
Driving Model (Power/Normal/Eco)
Electric Front Windows
Electric Heating Side Mirrors (Natural Colour)
Electric Power Steering
No Key Entry and Start System
Parking Sensor (Front and Back)
Reverse Camera with Guide Assist
E DELIVER 9 BODY STRUCTURE
The e DELIVER 9 is designed using 9.2m laser welding, the longest in the industry.
The structure is built from 54% high strength steel and PHS and it has accumulated
2 million kilometres of whole vehicle full environment test verification.
Strong design with emphasis on strength and payload.
E DELIVER 9 POWER TRAIN
SAIC are the leaders in the technical revolution, continually leading the way in the development of new technology and solutions for the automotive industry.
A part of that revolution is being the market leaders in battery technology, we have developed a number of battery options for the e DELIVER 9, by using various battery cooling methods, which allows us to reduce charging time (DC 45mins (5%-80%) AC 5hrs), extend battery life and increase the operating range.
The e DELIVER 9 comes with a 150Kw / 310Nm motor and a choice of 3 batteries configurations, 51.5Kwh, 72Kwh and 88.55 Kwh with A/C & DC charging as standard.
DRIVERS' ENVIRONMENT COMFORT AND SAFETY
Cool, calm and in control
Stay cool at all times with the e Deliver 9 air conditioning system. With our ever-changing climate, the importance of a good air conditioning system was always going to be a factor when it came to designing this vehicle.
The e DELIVER 9 is equipped with electrically heated side mirrors ensuring greater rear view visibility in all weather conditions. The Lane Departure Warning System can determine whether the van is changing lane, even in low-visibility weather conditions. In the event of danger, an acoustic and visual signal alerts the driver of the potential impending threat.
While High Beam Recognition manages the activation and deactivation of the main beam headlights, increasing visibility and reducing the risk of dazzling when driving at night, automatically recognising vehicles driving in the opposite direction.
Discover more with Eakin
Come find out more on the options and value that Maxis delivers at our new showroom. Or download our brochure and arrange a test drive or demo with our team when you are ready.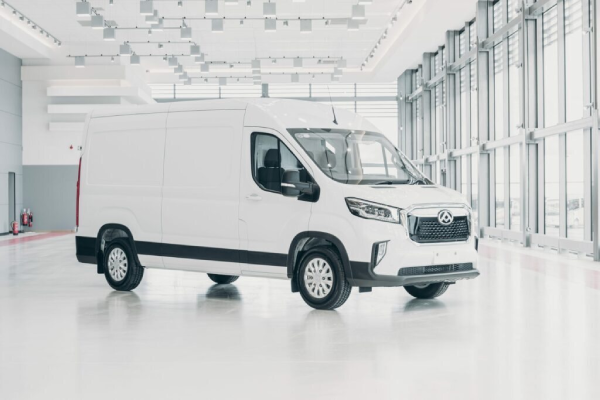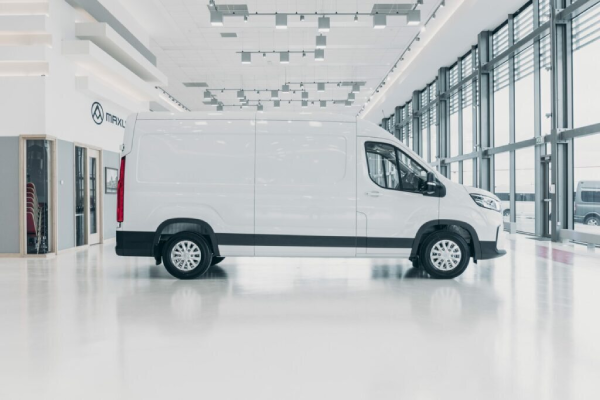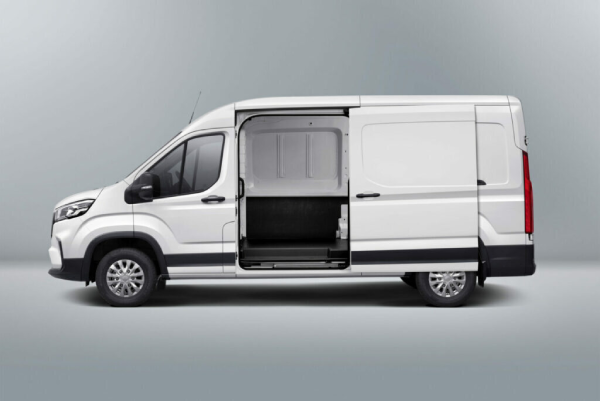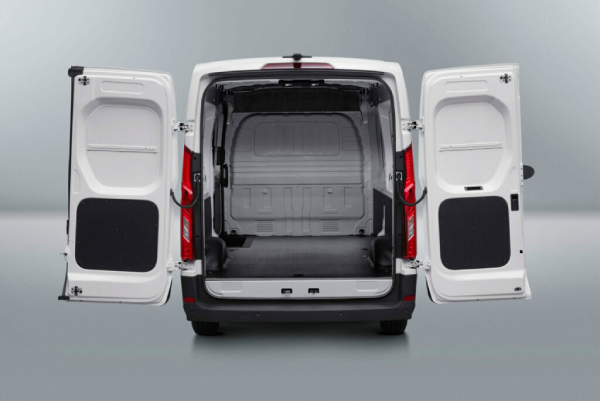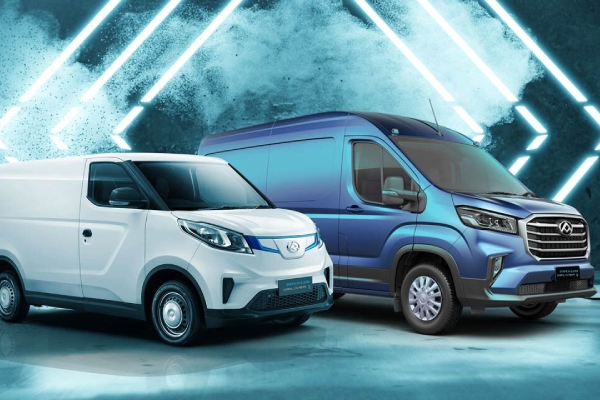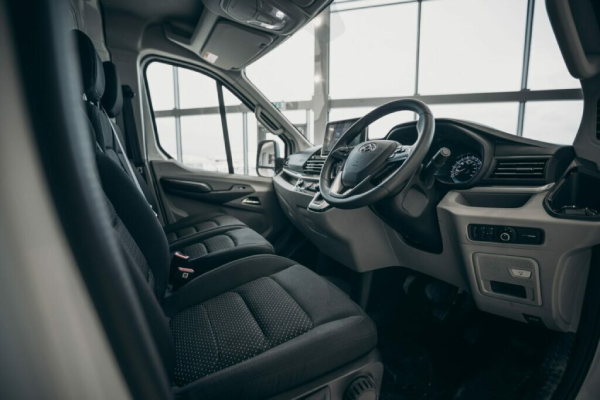 Maxus eDELIVER 9 Interior